Top clas
s HOYS potential 
Waxwing Hint of Glory
Moelview Masquerade x Waxwing Lap of Glory (by Eyarth Beau Geste)
3 year old gelding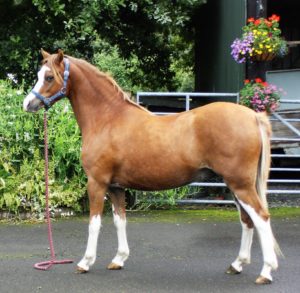 Hint has been a favourite almost from day one. He is a pony which catches the eye and won't be lost in a big HOYS class. He has a lovely temperament and is sure to do well under saddle. A particularly good limbed pony, he also has the most exquisite head of true Welsh character.
His dam was shown under saddle with success and his sire is producing top class offspring which are doing well in the ring both in hand and under saddle.
Potential top class HOYS Ridden M&M 
Waxwing Aristocrat
Moelview Masquerade x Mynach Arcadia (by Eyarth Beau Geste)
3 year old colt 
Full brother to the top ridden stallions, W. Arco (qualified HOYS 2019) and W. Archive (qualified RIHS 2019).
Aristocrat is sure to follow in their footsteps as almost identical in type, size and temperament.
Prize winner including Royal Welsh
He is licensed with proven fertility – a colt with unlimited potential both as a sire and ridden. 

 2019 Foals available – See Foal Page
Sire information
Eyarth Beau Geste

As usual there will be foals available by our senior stallion, Eyarth Beau Geste, who celebrated his 21st birthday in 2018. His last appearance in the show ring came as a three year old  (pictured above) when he was Youngstock Champion at the Royal Welsh Show. Since then he has gone on to sire a host of winners at this prestigious event including in 2017 when his offspring took the Overall Section B Championship (Waxwing Penny Gold) as well as the Reserve Youngstock Championship (Waxwing Glamour). In 2018 Glamour returned to the Royal Welsh taking the Youngstock Championship, Champion Female Championship and Reserve Overall.
Moelview Masquerade

Masquerade continues to cross very well on our Beau Geste mares with progeny winning at major shows both in hand and under saddle. In 2018 Waxwing Razzle Dazzle and Waxwing Aristocrat came first and second respectively at the Royal Welsh. Waxwing Archive and Waxwing Arco were leading novices with Arco taking the prestigious Picton Novice Championship at the NPS Summer Championships.
Young stock
This year we will have three outstanding three year olds for sale which show the potential to go far in the ridden world.
Please contact us for details